Technical Skills for Alpine Skiing
Ellen Post Foster

Technical Skills for Alpine Skiing is an instructional ski book written to educate and excite parents, coaches and school-age athletes about skiing. Unique among books of this type, Technical Skills for Alpine Skiing provides readily applicable exercises and drills to enhance the performance of young skiers. Young skiers are highly motivated by their desire to free ski-ski anywhere on a mountain. They also respond eagerly to challenge and the opportunity for personal achievement. Through "directed free skiing," skiers can work toward a goal, develop a routine to encourage optimum performance, and add constructive focus to each run down the mountain. These themes provide the basis for Technical Skills for Alpine Skiing.

Technical Skills for Alpine Skiing contains numerous exercises that teach and refine skiing skills in a very progressive manner beginning with wedge turns and building to expert skiing. Hundreds of photographs, including multiple-image composites, enhance a clear and descriptive text that is concise and easy to understand. The photographs of talented young demonstrators and of the author, combined with the text, make this book as accessible to skiers of all ages and levels of expertise.

The book covers in depth: technique, "directed free-skiing," wedge turns, beginning parallel turns, dynamic parallel turns and step turns. Specific areas of development include balancing exercises, skill development, ski pole action, turn shape, terrain/snow conditions and perceptual skills.

A detailed table of contents allows the reader to assess skiers' strengths and weaknesses and to derive a listing of exercises to meet individual needs efficiently. The glossary makes sense of the words common to the language of skiing. An appendix provides pertinent information concerning appropriate ski equipment for young skiers. It discusses, among other things, the correct sizing of ski boots, skis and poles.

True narratives precede each chapter. They relate experiences that had a deep effect on the author's development as a teacher and as a person. There were two major influences on her work: an extraordinary wealth of personal experience, and her ability to listen to children and to visualize skiing through their eyes.

Technical Skills for Alpine Skiing is a favored book among ski instructors and coaches nationwide.

Technical Skills
for Alpine Skiing
ISBN 0-9647390-2-x
176 pages
175 photographs
Special Sale



Order Online
$15.95 $9.57
Enter Quantity:
---

Race Skills for Alpine Skiing

Ellen Post Foster
Race Skills for Alpine Skiing is an instructional ski book that teaches skiers to become racers and racers to become champions. It provides a wealth of information for aspiring racers as well as experienced competitors. It can stand alone or be a next-in-a-series book to follow Technical Skills for Alpine Skiing. Very few books about how to ski race have ever been written. None cover the many aspects of the different alpine race disciplines in such a clear and organized way. Distinct chapters cover Giant Slalom, Slalom, and the speed events of Super G and Downhill. The reader learns about race technique as well as tactics: where to turn in a race course.
The Preface of Race Skills for Alpine Skiing is written by 1994 Olympic Downhill champion, Tommy Moe. He is pictured on the cover of the book.
Race Skills for Alpine Skiing begins with a description of turn technique that sets the foundation for subsequent chapters. It contains an explanation of precise turns, a description of body movement and ski action, and a list of turn characteristics. Throughout the book, action photographs of junior champions provide exemplary images for readers to study. They show, among other things, the layout of different gate (two-pole) combinations along with the racer's position in relation to the gates. Numerous diagrams depict official gate dimensions, gate combinations, how to set courses and the racer's optimal path through a course.
Giant Slalom, Slalom and speed event chapters are organized into topics that relate to skill development, gate drills, course description and tactics. The skill development segment is designed to enhance race performance through the development of technique. Gate drills further improve skill development and help skiers learn how to determine their path through a course. The layout of race courses, specific to each event, is thoroughly covered.
The detailed table of contents makes this book an excellent resource piece. The glossary helps readers better understand the terminology specific to ski racing.
Equipment especial to racing is discussed and safety concerns are addressed. The appendix covers a topical issue concerning ski helmets.
For skiers of any age who ponder over the confusion of Slalom poles while watching a World Cup race on television, this book will clarify race courses and explain the rules. It is a perfect book to read by the fireside in anticipation of heading up the mountain the next morning.

Race Skills
for Alpine Skiing
ISBN 0-9647390-1-1
120 pages
106 photographs
27 illustrations


Order Online
$14.95
Out of Stock
---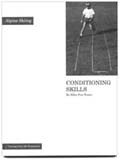 Conditioning Skills for Alpine Skiing
Ellen Post Foster
A handbook for successful training in skiing and other sports
For coaches, parents and athletes
For classes or individuals
Highly visual, easy to follow conditioning program
Photo-filled pages, descriptive style
Including:
Hundreds of exercises and games
Stretching routines
Strengthening exercises
Cross training information
Unique to this book are on-the-snow conditioning exercises--on skis.
"Conditioning Skills takes a fun approach to the physical development of young skiers. It represents the latest information about the physical conditioning of pre and post-adolescent athletes."
Charles J. Dillman, Ph.D.
Executive Director
Steadman•Hawkins Sports Medicine Foundation
"This book provides a system for organized training that is challenging and fun. The material can be adapted to any sport as well as to athletes of any age group."
Topper Hagerman, Ph.D.
Sports Medicine Consultant
Caremark Orthopedic Services
Conditioning Skills
for Alpine Skiing
ISBN 0-9647390-0-3
108 pages
204 photographs


Order Online
$11.95
Out of Stock
TPSF | SKI THEATRICAL | AUTHORS | SKIING AND THE ART OF CARVING | REVIEWS | ORDER
Copyright © 2006 Turning Point Ski Foundation, Inc. All rights reserved.