Skiing and the Art of Carving, the Film
The VHS video companion for our award-winning, best-selling book
Ellen Post Foster and Alan Schoenberger

Based on Ellen Post Foster's top-selling, award-winning ski book, this 60-minute video is the definitive power tool for learning to unlock the muscle of today's shaped skis and twinboards.
Brilliant demonstrations by PSIA National Demonstration Team members Ellen Post Foster and Jay Evans, and U.S. Ski Team member Tait Wardlaw


Revolutionary skill development techniques showing you how to purely carve, eliminating the need for difficult-to-learn movements


Extraordinary visuals of the world's best skiers— exclusive footage of Olympic gold medallist Tommy Moe, big-mountain skier Jeremy Nobis, and top pro-mogul athlete Justin Patnode


Excellent for intermediate and advanced skiers with clearly detailed, essential building blocks for high-performance skiing


Filmed in 16mm with original music score written and performed by film composer Phil Marshall of Endless Summer fame, featuring Super Tramp's lead guitarist, Carl Verheyen


If you're taking a lesson from a certified ski teacher, chances are they are teaching from this video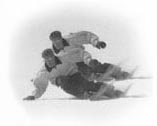 "This is the best training video available. As a ski instructor, it's an inspiration. For my students, it is a must-have. Elite PSIA Demo Team and U.S. Ski Team members provide demonstrations that are so accurate and obvious that you can improve your own skiing just by watching the demos over and over. This video guides skiers to powerful, versatile movements with a clear, concise, and easy-to-learn system. It is the next best thing to having a personal ski coach. The mind-blowing scenes of Nobis skiing at the end of the video are awe-inspiring. If you want to improve your technique, this is the only training video you will ever need."
-Jamie Carpenter, PSIA-Certified Ski Teacher, Level 3
Winter Park, Colorado

"This video captures the pure essence of carving.....its powerful visual message clarifies the movement patterns in carving. It provides vibrant lasting images that stay with you until you feel the sensations in your own skiing".
-Carol Levine, Training Manager
Vail/Beaver Creek Ski Schools

"...Skiing and the Art of Carving, the Film shows us how to use these tools to their fullest potential. Outstanding images target the subtle elements of carving, and Ellen's remarkably clear exercises and progressions make learning easy".
-Rob Sogard, Staff Trainer
Snowbird Ski School
PSIA National Demonstration Team
"Like the book, the film is meticulously divided up. Each section contributes to a sequential teaching progression or can be viewed as a stand-alone piece covering one topic. The demos are far from the rigid instructor turns that some people may conjure up in their minds. The bottom line is good skiing and good images. The film is an educational showpiece.
-Ron Kipp
Director of Athlete Preparation
U.S. Ski Team

"Foster has a knack for driving to the heart of a skill or movement and can make even the most complex movements easy to understand. This set is most certainly appropriate for professional skiers who are themselves "students of the game."
-David Mannetter, Head Staff Trainer
Mammoth Mountain
Three-term PSIA National Demonstration Team

"Everyone can learn to carve from this superb, cutting edge video"
-Bill Egan
U.S. Ski Team Head Coach
---
Skiing and the Art of Carving (the book)
Our award-winning, best-selling book
Ellen Post Foster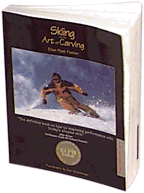 The award winning
Skiing and the Art of Carving
is an excellent instruction book for those wishing to learn to ski or greatly improve their skiing. It is particularly important to those skiers who have purchased shaped skis.
Skiing and the Art of Carving is about refining every aspect of skiing technique


More than 300 photographs and composite images enrich a descriptive and clear text.

Whether you are a beginner or an accomplished skier, use the exercises and progressions to advance your skills to meet the challenges of the mountain.

Used by thousands of ski teachers world wide.

"A major effort and a major success, this book covers all you need to know about skiing and teaching. [Ellen] transcends semantics and speaks with a simplicity earned through deep understanding. She offers a clear, do-able system to guide students toward fluid, athletic, versatile movements....the book is organized so that instructors and students alike can zero in to a particular solution for practically any problem. Ellen writes with such simple elegance that you can practically visualize each movement but it is the photographs that complement and complete this book's impact. The pictures are extraordinary."
Mermer Blakeslee
PSIA National Demonstration Team

"If a picture is worth 10,000 words then the 217 figures which are used to accentuate the text makes this single book equal to many volumes. The demonstrations are not just pretty pictures, although the book has its share, but are accurate to the point that the book could be well understood by just spending time perusing these demonstrations. Should a race coach have this book on their book shelf? It is not necessary. But then again it is not necessary to have sharp edges on our skis either."
Ron Kipp
Director of Athlete Preparation
U.S. Ski Team

"Skiing and the Art of Carving is not only the first book on how to maximize performance with today's equipment, it is also the definitive book on the subject."
Mike Porter
Vail/Beaver Creek Ski School Director

"Ellen Post Foster, an eight-year member of the PSIA Demo Team, provides skiers of all abilities with a thorough look at virtually every nuance of skiing technique."
Snow Country Magazine

"Mastery of any sport requires an intimate understanding of the individual pieces that make up the whole. Skiing and the Art of Carving is a brilliant use of skill development and exercises that combine the traditional needs of high level skiing with the exciting potential of the newest equipment technology to provide the reader with a successful formula for mastering contemporary skiing."
Jay Evans
Three-term PSIA National Demonstration Team


Inspirational. The only ski training book you need. This is the most up-to-date and complete guide I have run across. Its coverage is encyclopedic, yet remarkably succinct, covering every issue from equipment to skills, drills, and mental approaches. It should be useful to avid skiers and instructors at any level, supplanting volumes of manuals normally available only to professional instructors, yet the exercises detail a path that even novices can effectively pursue to develop the most refined technique. The book is perfectly complemented by the companion video which gives clear evidence that the book's progression of exercises can cluminate in the gorgeous turns the Ms. Post Foster, her coauthors, and demo team do so effortlessly. The combined effect is truly inspirational.

This book is the only reading material you should take on your next ski trip. If you read it before then (and you should), you will quickly develop a powerful longing for the slopes.
Bill Ward from Santa Fe, New Mexico

---
Special Sale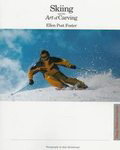 We have a limited supply of the first addition of Skiing and the Art of Carving, the Book (white cover). The books are new and are discounted 40%.


Order Online
$10.77
Enter Quantity: